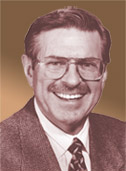 Veteran broadcaster Chuck Schaden began his radio career in the mid-1950s while attending the University of Illinois in Chicago. He landed a spot on a tiny suburban FM radio station where he hosted and programmed several hours a week of broadcast features.

In 1970 he began producing and hosting a Chicago area program of classic radio broadcasts called Those Were The Days. The program has been on the air continuously ever since and Schaden has been nationally recognized for his efforts.

A former newspaper editor and marketing executive, he turned his hobby of collecting vintage radio shows into a vocation. His interviews with hundreds of radio stars, supporting players, writers, producers and directors have been highlights of his broadcasts and many of those interviews appear in his book, Speaking of Radio – Chuck Schaden's conversations with the stars of the Golden Age of Radio.

In 1974 Schaden appeared with Jim Jordan, radio's Fibber McGee, in a nationally broadcast series, Fibber McGee and the Good Old Days of Radio. He was editor and publisher of Nostalgia Digest from 1975 to 2005. He owned and operated Metro Golden Memories, a show biz nostalgia shop, from 1976 to 1997. His cable TV series, Chuck Schaden's Nostalgia, was seen in 1986 and 1987 and for ten years, beginning in 1985, he hosted the Chicago edition of When Radio Was.

He was a founding member of the Board of Directors of the Museum of Broadcast Communications, where his collection of more than 50,000 old-time radio programs became the core of the museum's radio archive in 1987.

He is the author of WBBM Radio: Yesterday and Today, a history of station WBBM, Chicago. As a leading radio historian he is a resource for public libraries, metropolitan daily and community newspapers, and colleges and universities throughout the country.

Chuck Schaden was inducted into the Radio Hall of Fame in 1993, the only radio fan to be so honored.