FEATURED ARTICLE
'TIS THE SEASON:
CHRISTMAS ON THE RADIO
By Elizabeth McLeod
It's one of the traditional pictures of the holiday season in 20th Century America -- the whole family gathered around the bright lights of the Christmas tree, as the radio plays softly in the background. From the very beginning of radio, there's been a strong connection between the holiday and the broadcast medium.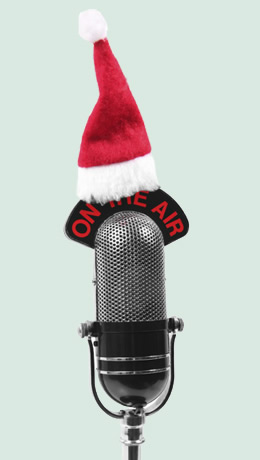 That connection goes, literally, all the way back to the start of wireless telephony. On Christmas Eve 1906, pioneering inventor Reginald Fessenden sent out a brief holiday program from the National Electric Signaling Company station at Brant Rock, Massachusetts -- performing "O Holy Night" on his violin, followed by a short Bible reading. This experiment may have been the very first broadcast of music intended for a general audience -- the earliest broadcast, as opposed to a point-to-point message. And it was without question the first ever Christmas-oriented radio program.

With the explosion of interest in commercial radio broadcasting in the 1920's, Christmas was an important element in the on-air schedule. The foremost representative of the season was the formidable Austrian-American operatic contralto, Ernestine Schumann-Heink. Known as a worldwide symbol of motherhood -- she had had sons fighting on both sides of the First World War -- Madame Schumann-Heink began radio's earliest major Christmas tradition on December 24, 1926 with her midnight performance of "Silent Night" in English and German. For the rest of her life, through Christmas Eve 1935, this tradition would continue. Her death in November of 1936 was mourned around the world, and for the first generation of radio listeners, Christmas would never be quite the same.

But new traditions weren't long in establishing themselves. On Christmas Day 1934, the Nash Motor Company sponsored a marathon afternoon variety broadcast over CBS, highlighted by a dramatization of Charles Dickens' timeless holiday fable A Christmas Carol, with Lionel Barrymore stepping to the microphone as Scrooge. Barrymore's performance was spot-on-perfect, the very embodiment of Dickens' grasping, covetous old sinner, and instantly became a fixture on the holiday scene. Barrymore repeated the performance in 1935, 1936, and 1937 for the Campbell Soup Hollywood Hotel program, but missed 1938 due to illness -- turning the role over to his brother John. When he returned in 1939, he gave what may have been his definitive performance in the role, in a full-hour presentation produced and directed by Orson Welles for Campbell Playhouse. Barrymore would continue to perform as Scrooge in a variety of contexts until his death in 1954, and also presented a version of the story on phonograph records -- ensuring the tradition would outlive both the actor and radio itself. To this day, Barrymore's "Bah! Humbug!" remains a Christmas must for many families.

Another enduring radio tradition emerged from the 1930's, of much humbler origins. In 1937, producer Lindsay MacHarrie and writer Glanville Heisch developed an inexpensive children's serial for the Christmas season, for distribution by the Radio Transcription Company of America to sponsors in local markets. Such programs rarely had a lengthy shelf life, but something about The Cinnamon Bear captured the attention of both listeners and sponsors -- and in nearly eight decades, the serial hasn't missed a Christmas. Somewhere, every December, Paddy O'Cinnamon leads Judy and Jimmy on their search for the missing Silver Star.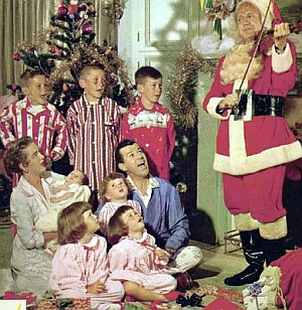 Big time radio stars all had their own approach to the Christmas season. Comedian Fred Allen's traditional holiday sketch took on a characteristically topical tone, with his 1937 Mighty Allen Art Players sketch "Santa's Sit-Down Strike," while Jack Benny favored a more timeless approach with his annual trip to the department store to buy gifts for his cast. Genre parodies were also popular with radio comedians. The 1936 George Burns and Gracie Allen satire of A Christmas Carol was typical of the approach taken, complete with celebrity impersonators cast as each of Dickens' three spirits.

Other personalities preferred a more variety-oriented approach, with Bing Crosby the pace-setter in this style of holiday programming. It's difficult to comprehend a time before Bing's omnipresent rendition of "White Christmas," but that song didn't feature on Crosby's holiday programs until 1943. In earlier seasons, listeners to Kraft Music Hall knew Christmas couldn't truly arrive until Bing's earnest crooning of "O Come All Ye Faithful/Adeste Fideles."

Some of the most effective radio Christmas programming was the simplest, and two particular programs in this style stand out. Freeman Gosden and Charles Correll always took note of the holiday season in their nightly Amos 'n' Andy broadcasts during the 1930's. Beginning in 1935, they offered their listeners a special greeting each year. The broadcast of Christmas night 1935 was a series landmark, as Amos wed long-time fiancée Ruby Taylor in a simple, dignified ceremony featuring the musical accompaniment of the Dixie Melody Masters quartet. The following year, Amos and Ruby celebrated their first anniversary by tuning in on their new Christmas radio to an inspiring holiday sermon by Pastor Preston Bradley, of the progressive People's Church in Chicago. In 1937, Christmas was marked by Amos, Ruby, and their friends gathering around the Christmas tree as Amos read the Nativity story from the Gospel of Luke.

But it was in 1940 that Correll and Gosden began what would become their signature holiday piece -- as for the first time Amos interpreted the Lord's Prayer to his then-four-year-old daughter Arbadella, to the soft accompaniment of the Paul Taylor Chorus. Correll and Gosden labored over this scene for weeks, with Gosden taking the script to clergymen of several faiths to ensure that it was universally acceptable. Child actress Barbara Jean Wong was tapped for the role of Arbadella, and she was carefully coached to ensure that she captured the youngster's earnest innocence and sense of wonder as she listened to her father. Gosden himself, as Amos, rehearsed his own performance rigorously, listening endlessly to recordings until he was certain he had every nuance as it should be. The broadcast, first heard on Christmas Eve 1940, became an instant classic, with thousands of requests received from listeners for a copy of the script. It would be repeated every year until Correll and Gosden left the air in 1960. The piece was issued on a Columbia record in 1948, and remained in print until the late 1960's. In the years since 1940, it's likely that more people have heard Freeman Gosden's gentle interpretation of the Lord's Prayer than that of any other man who ever lived.

Another simple, gentle approach to the Christmas season was that taken by another enduring dialect team, Chester Lauck and Norris Goff -- Lum and Abner -- who first presented their own moving, allegorical holiday sketch in December 1933. "Christmas In Pine Ridge" finds Lum, Abner, and Grandpappy Spears trudging through a new-fallen snow. The trio carries provisions for a young couple stranded by the storm as the young woman prepares to give birth, having taking shelter in an abandoned barn. As they make their way across the countryside, the three men never directly draw the obvious parallel, but it's clearly implied -- culminating with the birth of a healthy baby boy. Lauck and Goff would perform this episode annually for more than twenty years, and syndicated rebroadcasts of their series in later decades have kept its memory fresh.

Straight dramatic programs dabbled in holiday subject matter as well, often with surprising results. One would not expect Suspense to offer much in the way of Christmas cheer, but the ever-inventive producer/director Elliot Lewis, with writers Morton Fine and David Friedkin, turned out a remarkable take on the unlikeliest source material possible with his 1951 adaptation of Clement Moore's "The Night Before Christmas," featuring Greer Garson in the story of a child wishing desperately for the return of her missing parents on Christmas Eve. Repeated in 1953, the program celebrates the season while remaining true to Suspense's reputation as Radio's Outstanding Theatre of Thrills.

Similarly, the gritty, laconic voice of Jack Webb was not one we expect to hear raised in holiday greetings. But, Webb and Dragnet gave radio not one, but two compelling Christmas episodes -- both later adapted to television with equal power. "A Gun For Christmas," first heard in 1949, remains perhaps the most shattering holiday drama ever broadcast -- as a young boy dreams of a .22 rifle under his Christmas tree, with tragic results. Joe Friday's melancholy closing line, "You don't give a kid a gun for Christmas," is as haunting today as it was more than six decades ago. In 1953, Webb followed this episode up with a less grim, but equally moving holiday tale -- following the investigation of the theft of a statue of the baby Jesus from a Los Angeles mission's nativity scene. Determined to recover the figure before Christmas mass, Friday and his partner fail -- only to receive last-minute help from a most unexpected source. Both of these episodes showcase Webb's unique performing and directing style, while never losing sight of their essential message.

That was always radio's gift as well -- no matter the performer, no matter the style, Christmas always brought the most moving of messages to the air. No matter which radio favorites you choose to enjoy this holiday season, may you always keep their messages in mind.


Copyright 2011 Elizabeth McLeod and RSPT LLC. All rights reserved.
May not be reproduced without permission.
---